Finally i got the my birthday photo. On the 14th night, we went to Ayer Panas for steamboat '' Restoran Talipon '' haha. For that dinner, we celebrate for 2 events, the 1st one is the successful of the Global Peace event although Jacklyn Victor and Daniel Lee failed to turn up for the event but we also run the event smoothly. The 2nd events is my birthday. Around 16 people was in the dinner, we eat happily on that night, because almost every night I bring my food to my home and eat alone. Pity Justin! After we crap crap crap, I went back to home.
When the time I was about to sleep, suddenly my room's light off. I was shock and thought was electricity black off, at the same time a cake went in to my room with around 10 people. Wow, so nice and so touching. That is my 1st cake on my birthday eve. What they did to me? As usual, they used to ask birthday boy/girl to take out the candle by using mouth and then push my head to the cake. For fulfil their happiness, I did it even though I knew the impact after it.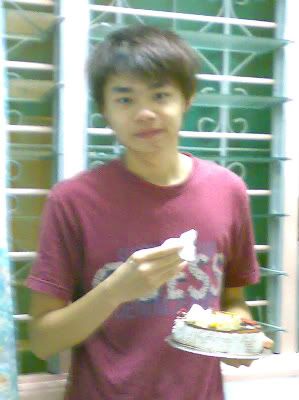 After finish eating the cake, they went back to their home and have a sweet dream but then I continue watch ghost movie in my friend's house till 5 o'clock in the morning. This is so tiring. The next day, I still have class at 10am. Thanks for those who gave me surprise. *sleep*
I woke up at 10am and I was late for the class, I went to class around 11am. The boring lecture continue for 3 hours until 2pm. After the lecturer blablabla for some time, finally she finished her lecture at around 2pm.
When I was busy chatting with my friends, suddenly birthday song came out and there is another cake appeared in front of me. This is so nice, lecture hall wei. This time is my classmate gave me a suprise. As usual, asked me to make a wish, and then I make a joke with them that I wanted to break my virginity this year. Haha.
Holding the cake xD
photo of my classmate, is the couple there taking photo with us or ?
After that, we went to KFC near wangsa maju there. My classmate treat me a lunch plate. After we finish our lunch they gave me another surprise is a present. Guess what?
lol, my favourite!haha. Thank you la!
Group photo: Formal haha.
Group photo: Informal haha.
Finish story of KFC xD!
On that night, around 5pm I went to GreenBox in Lowyat Plaza for sing K. This time I joined the other group of friends, my coursemate. We dance, we sing, we jump in the room. It is so happening, everyone inside become crazy d.
I can sing ! lol
woo!
When I'm serious singing! Suddenly the song cut off and turned to Happy Birthday song. Wow! Cool!
Wishing!
=.=!
After blowing cake, we ciaoz d. haha! thanks you all. So nice. At night, we go Pavillion watch House Bunny. 
Story ends! xD